MaryAnn M.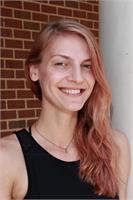 MaryAnn took her first ashtanga class in 2009 and fell in love with what quickly became a physically healing and mentally calming practice. In 2012, she graduated from Charlottesville Yoga School and began teaching. She's thankful for the large yoga community in our little town, and very grateful to have had workshop opportunities with Tim Miller, Andrew Eppler, David Keil, Kino MacGregor, Richard Freeman, and Kathryn Budig.
MaryAnn is also FlyDog's Lead Barre Teacher and is in the process of getting her 500 hour Vinyasa certification from Om On Yoga in Richmond.
Her creatively sequenced vinyasa classes have a strong focus on alignment and overall strength, offering something new and different to both beginners and seasoned practitioners.
MaryAnn M. instructs the following:
Heated Vinyasa ALL LEVELS. This can be a moderate to high intensity class which links breath to movement to get the heart rate up and to work the student toward a peak pose or sequence through balance, innovation, and technique. Vinyasa Flow will help to develop physical and mental strength and will lead a gradual physical and mental opening. Sequencing will vary with instructor. The room is heated between 80 and 85 degrees.




Expect to sweat and expect to shake! FlyDog barre classes incorporate yoga, Pilates, and ballet influenced movements and exercises to strengthen and tone, creating long, lean muscles. A barre practice is a great complement to an existing yoga practice, as it helps build strength, focus, and confidence! Come prepared to work and have fun!

The room is heated between 75-80 degrees. All equipment provided. No mat, shoes, or socks necessary. Please arrive 10 minutes prior to class.