Carly D.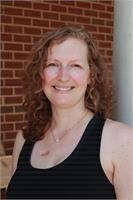 After having been an educator and a yoga practitioner for ten years, Carly Nicholson is now bringing these two together as a yoga teacher, designing and teaching experiences on the mat that will leave you with meaning and purpose.
As a cancer survivor, Carly was inspired by the several teachers, such as Eliza Whiteman, who welcomed her and whatever she could offer on her mat throughout treatment, in practice towards healing. Now Carly teaches classes with the same individualized welcome and attention, using music, rhythm, and breath as a quickening tool for building community. Carly is an RYT-200 and has also completed the Teen Yoga Teacher Training Intensive with Karma Kids Yoga. Carly teaches Power Vinyasa, Heated Vinyasa, and Teen Yoga.
Carly strives to be an old person one day, one who smiles back at the play, laughter, and spirited appreciation of this body she found through yoga. In teaching, she simultaneously receives and offers up the perspective of survivor, the perspective of yogi, and this life we lead when we get to meet on our mats.
Carly D. instructs the following:
Power Vinyasa ALL LEVELS. This dynamic, energizing and challenging style of yoga links breath and movement through a basic Power Yoga framework combining sun salutations, standing postures and floor work but each teacher brings their own creative touch. The smooth, continuous flow deepens the breath, develops core strength, increases endurance and challenges balance and flexibility. You will leave these classes with a renewed mental and physical energy. The room is heated between 85 and 90 degrees.