Vanessa S.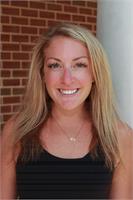 Vanessa teaches yoga to help her students gain more body awareness and push them outside of their comfort zones. She has been practicing for nearly 8 years and has used it as a cross training tool in conjunction with spin, kettlebells, running and more. Her classes are athletic, light-hearted, core focused and a balance of grace and strength that will last even off the mat. She is a Charlottesville native, a UVA grad, and lover of all things local.
Vanessa S. instructs the following:
Power Vinyasa ALL LEVELS. This dynamic, energizing and challenging style of yoga links breath and movement through a basic Power Yoga framework combining sun salutations, standing postures and floor work but each teacher brings their own creative touch. The smooth, continuous flow deepens the breath, develops core strength, increases endurance and challenges balance and flexibility. You will leave these classes with a renewed mental and physical energy. The room is heated between 85 and 90 degrees.