Patrick G.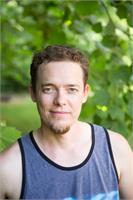 In over eight years of practice, Patrick has gone from once-a-week asana dabbler to yoga devotee. Yoga is the pillar that supports some of the other joys in his life: being a loving husband, active father and creating hand-made ceramics. Patrick has studied with local teachers such at Eliza Whiteman, MaryAnn McIvor, Jen Fleisher, and Kevin Warren, each of whom has ignited his desire to improve his personal practice and inspired him to share his love of yoga by becoming a certified teacher. Patrick completed FlyDog Yoga's 200-hour Vinyasa Teacher Training in August of 2015.
Patrick teaches an energetic Vinyasa flow, set to great music and designed to activate and open the entire body, with special emphasis on breath and alignment. We sweat together, laugh together, and share in each other's successes. Show up, work hard and you will never be the same again.
Patrick G. instructs the following:
Heated Vinyasa ALL LEVELS. This can be a moderate to high intensity class which links breath to movement to get the heart rate up and to work the student toward a peak pose or sequence through balance, innovation, and technique. Vinyasa Flow will help to develop physical and mental strength and will lead a gradual physical and mental opening. Sequencing will vary with instructor. The room is heated between 80 and 85 degrees.