Jess N.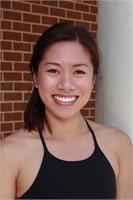 Jess has been practicing yoga for about eight years. She will complete her 200-hour Vinyasa Teacher Training through FlyDog Yoga in August 2015. Her inspirations include Eliza Whiteman, Holly Wade, and her Teacher Training peers. As a full-time certified personal trainer through ACSM, she uses her knowledge of the human body to teach and embody the importance of core strength, stability, and alignment. She believes that challenging the body is an important way to find and build strength - whether it's in her yoga classes or on the fitness floor.
During a heated vinyasa practice, students can expect to embrace working hard, getting a little (or very) sweaty, and breathing together on the mat; all for that final relaxation: Savasana!
Jess N. instructs the following:
Our power sculpt classes feature high intensity intervals of yoga, weights, and cardio. Cardio bursts will get your heart rate going, upper body strength moves and hand weights will sculpt your arms, and you'll see tremendous gains in your core strength and balance. Finish off the class with a well-deserved cool down and savasana. The room temperature will be between 80 and 83 degrees and you will need a yoga mat for this class.




Power Vinyasa ALL LEVELS. This dynamic, energizing and challenging style of yoga links breath and movement through a basic Power Yoga framework combining sun salutations, standing postures and floor work but each teacher brings their own creative touch. The smooth, continuous flow deepens the breath, develops core strength, increases endurance and challenges balance and flexibility. You will leave these classes with a renewed mental and physical energy. The room is heated between 85 and 90 degrees.