Kelsey G.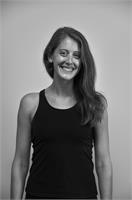 Kelsey Gillan has been practicing yoga since 2007. She is a graduate of James Madison University, where she studied Public Health which gave her the foundation to build a life dedicated to holistic living. As her practice rooted, Kelsey recognized an opportunity and desire to expand her health degree by teaching yoga. Kelsey studied under Eliza Whiteman and graduated from Fly Dog's 200 hr Teacher Training in February of 2015. Kelsey blends her health knowledge and personal experiences to develop yoga classes accessible for all levels. Kelsey teaches yin and vinyasa to the rhythm of music, with the use of props, gentle assists, and personal attention. She hopes to inspire her students' growth in their yoga journey, and to find courage that transpires off the mat.
Kelsey G. instructs the following:
A yin yoga practice sequences longer holds in quiet stillness with an intention to relax the muscles, opening the flow of energy through the deeper connective tissue, releasing broader range of motion in the joints of the body. Promoting a meditative awareness of breath and energy, this calm practice reveals acceptance within the present condition of the physical, emotional, and conscious layers of our being. This is an approachable class for beginners, athletes, and suitable for all backgrounds of yoga experience.




Heated Vinyasa ALL LEVELS. This can be a moderate to high intensity class which links breath to movement to get the heart rate up and to work the student toward a peak pose or sequence through balance, innovation, and technique. Vinyasa Flow will help to develop physical and mental strength and will lead a gradual physical and mental opening. Sequencing will vary with instructor. The room is heated between 80 and 85 degrees.