Jamie M.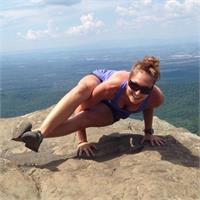 Jamie has been teaching Vinyasa Yoga since 2014 and practicing yoga for over 11 years with a consistent practice starting in 2013. Her inspirations include fellow teacher trainers, Stephanie Jesteadt, Eliza Whiteman, Kathryn Budig, and Gina Camputo. Jamie graduated from FlyDog Yoga 200-hour Vinyasa Teacher Training in March 2016. Jamie is a full time Registered Dietitian with Veterans Affairs and she also organizes local nutrition challenges and nutrition related workshops and speaking engagements. Jamie is certified in Indo-Board Yoga through YogaFit and she completed over 100 hours of training under YogaFit trainers. You can expect a heated fast paced, fun, and athletic class that will leave you feeling strong, confident, and sweaty. Jamie loves to teach whether it is nutrition or yoga and she hopes to share her love of healthy living with you on and off the mat.
Jamie M. instructs the following:
Power Vinyasa ALL LEVELS. This dynamic, energizing and challenging style of yoga links breath and movement through a basic Power Yoga framework combining sun salutations, standing postures and floor work but each teacher brings their own creative touch. The smooth, continuous flow deepens the breath, develops core strength, increases endurance and challenges balance and flexibility. You will leave these classes with a renewed mental and physical energy. The room is heated between 85 and 90 degrees.