Anne K.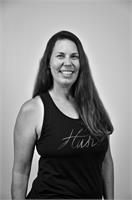 When Anne finally took a yoga class to help heal after a car accident, she was amazed at how good she felt afterwards. She was hooked from the first, flowy, mindful class. Her classes are inspired by the belief that yoga can heal and strengthen the body both physically and emotionally.
Anne teaches all levels of Vinyasa. Her classes are a Fun, creative Flow that will both challenge and inspire you. Come ready to work hard, sweat, breathe deep, and leave empowered. In her classes, you will work through invigorating sequences set to an eclectic mix of tunes, allowing you to grow, stretch, and reflect. Anne has her 200 Yoga certification from FlyDog Yoga. Her main influences are Eliza Whiteman, Mary Ann McIvor, Baron Baptiste, Rolf Gates, and Kerri Verna.
Anne K. instructs the following:
Power Vinyasa ALL LEVELS. This dynamic, energizing and challenging style of yoga links breath and movement through a basic Power Yoga framework combining sun salutations, standing postures and floor work but each teacher brings their own creative touch. The smooth, continuous flow deepens the breath, develops core strength, increases endurance and challenges balance and flexibility. You will leave these classes with a renewed mental and physical energy. The room is heated between 85 and 90 degrees.




Heated Vinyasa ALL LEVELS. This can be a moderate to high intensity class which links breath to movement to get the heart rate up and to work the student toward a peak pose or sequence through balance, innovation, and technique. Vinyasa Flow will help to develop physical and mental strength and will lead a gradual physical and mental opening. Sequencing will vary with instructor. The room is heated between 80 and 85 degrees.