Stephanie K.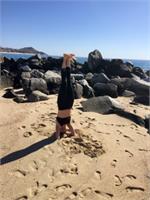 Stephanie discovered her passion for yoga accidently three years ago. An avid runner through high school and college, she injured her back while training for a marathon. While turning to yoga to strengthen her core, she fell in love with the practice and traded her running shoes for a yoga mat and never looked back.
Her practice provided her the discipline and calmness to complete an accelerated nursing degree in 15 months. For one hour a day, every day, she could recharge, refocus and renew her energies. Two years later working as a pediatric nurse, she relies on her yoga practice to provide balance, clarity and calmness to her days.
Stephanie graduated from FlyDog Yoga 200-Hour Vinyasa Teacher Training in July of 2016. She draws her inspiration for practice from many of her teachers, including Eliza Whiteman, Mary Ann McIvor, Debbie Taneyhill, and her fellow teacher trainers. Stephanie teaches a Power class where you can expect a fast paced, fun workout that focuses on balance and strength. She believes yoga has the power to transform lives and hopes to empower others on the journey to a stronger body and calmer mind.
Stephanie K. instructs the following:
Power Vinyasa ALL LEVELS. This dynamic, energizing and challenging style of yoga links breath and movement through a basic Power Yoga framework combining sun salutations, standing postures and floor work but each teacher brings their own creative touch. The smooth, continuous flow deepens the breath, develops core strength, increases endurance and challenges balance and flexibility. You will leave these classes with a renewed mental and physical energy. The room is heated between 85 and 90 degrees.