Courtney N.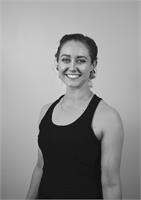 Courtney graduated from FlyDog Yoga 200-Hour Vinyasa Teacher Training in July of 2016.
Courtney N. instructs the following:
Heated Vinyasa ALL LEVELS. This can be a moderate to high intensity class which links breath to movement to get the heart rate up and to work the student toward a peak pose or sequence through balance, innovation, and technique. Vinyasa Flow will help to develop physical and mental strength and will lead a gradual physical and mental opening. Sequencing will vary with instructor. The room is heated between 80 and 85 degrees.




Our Yoga Fundamentals Workshop will introduce beginners to the yoga foundations as well as provide an opportunity for more seasoned practitioners to gain clarity in their yoga practice. This workshop will provide the opportunity to have a small group session tailored to give you personalized attention and the tools you need to build up your yoga practice.

We will break down the basics of Meditation, breathing/focus techniques, breakdowns of Sun Salutations as well as common poses we see in class. The workshop will conclude with deep relaxation and Savasana (Final Resting Pose).

Price: $20

***Registration cancellations must be made 48 hours prior to the start of the workshop to be eligible for account credit.