Madison R.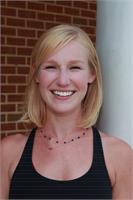 Madison's yoga journey began her freshman year of college as she looked for something to help manage her stress and unwind at the end of a busy day. What started as simply a relaxation tool quickly evolved into a sweaty, powerful practice of self-love and empowerment. Madison was inspired by Baron Baptiste and Kathryn Budig and has studied with Eliza Whiteman and MaryAnn McIvor. She graduated from FlyDog Yoga's 200 Hour Vinyasa Training in March 2017, and also completed her Kids Yoga Training at Big Power Yoga in Houston. In addition to being a kids yoga teacher, Madison will start the University of Virginia's Counselor Education Program this fall in hopes to eventually combine the principles of yoga with counseling. As a teacher, Madison is committed to authenticity and will empower you to find your edge on the mat, while moving to inspirational beats. Her teaching will constantly remind you that you are awesome just the way you are.
Madison R. instructs the following:
Power Vinyasa ALL LEVELS. This dynamic, energizing and challenging style of yoga links breath and movement through a basic Power Yoga framework combining sun salutations, standing postures and floor work but each teacher brings their own creative touch. The smooth, continuous flow deepens the breath, develops core strength, increases endurance and challenges balance and flexibility. You will leave these classes with a renewed mental and physical energy. The room is heated between 85 and 90 degrees.




Our power sculpt classes feature high intensity intervals of yoga, weights, and cardio. Cardio bursts will get your heart rate going, upper body strength moves and hand weights will sculpt your arms, and you'll see tremendous gains in your core strength and balance. Finish off the class with a well-deserved cool down and savasana. The room temperature will be between 80 and 83 degrees and you will need a yoga mat for this class.




Heated Vinyasa ALL LEVELS. This can be a moderate to high intensity class which links breath to movement to get the heart rate up and to work the student toward a peak pose or sequence through balance, innovation, and technique. Vinyasa Flow will help to develop physical and mental strength and will lead a gradual physical and mental opening. Sequencing will vary with instructor. The room is heated between 80 and 85 degrees.