Andriana G.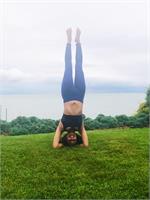 Andriana is an undergraduate at the University of Richmond who fell in love with Barre after taking many classes with her mom. Soon after starting college, she realized that she didn't want to just take the classes, she wanted to teach them. She is now certified in Barre through NETA and is working to expand her knowledge as an instructor. Andriana just joined our team at FlyDog Yoga and she is excited to start teaching with us. Get ready to get toned and have the perfect beach body with her Barre class!
Andriana G. instructs the following:
Expect to sweat and expect to shake! FlyDog barre classes incorporate yoga, Pilates, and ballet influenced movements and exercises to strengthen and tone, creating long, lean muscles. A barre practice is a great complement to an existing yoga practice, as it helps build strength, focus, and confidence! Come prepared to work and have fun!

The room is heated between 75-80 degrees. All equipment provided. No mat, shoes, or socks necessary. Please arrive 10 minutes prior to class.