Ashley R.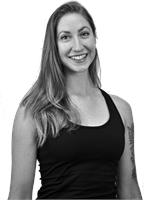 For Ashley Rydeen, yoga is much more than a physical practice. Through her years of practice, Ashley has found tremendous emotional healing and self-connection all while building her physical & mental strength. She graduated from from FlyDog Yoga's 200 hour Power Vinyasa Program in 2017 studying under Eliza Whiteman and MaryAnn McIvor. She is currently working toward her 500 Hour Certification also through FlyDog Yoga studying under Eliza Whiteman. Her flows encourage students to focus on cultivating strength, stability and balance while bringing awareness to the breath and alignment.
Ashley R. instructs the following:
Power Vinyasa ALL LEVELS. This dynamic, energizing and challenging style of yoga links breath and movement through a basic Power Yoga framework combining sun salutations, standing postures and floor work but each teacher brings their own creative touch. The smooth, continuous flow deepens the breath, develops core strength, increases endurance and challenges balance and flexibility. You will leave these classes with a renewed mental and physical energy. The room is heated between 85 and 90 degrees.




Heated Vinyasa ALL LEVELS. This can be a moderate to high intensity class which links breath to movement to get the heart rate up and to work the student toward a peak pose or sequence through balance, innovation, and technique. Vinyasa Flow will help to develop physical and mental strength and will lead a gradual physical and mental opening. Sequencing will vary with instructor. The room is heated between 80 and 85 degrees.




Enjoy this 75 minute heated Vinyasa / Yin yoga class that is suitable for all skill levels. The class begins with a Vinyasa Flow to warm up and then transitions to a relaxing Yin practice. With the best of both yoga worlds, you will leave relaxed, refreshed and balanced.

All levels. Regular class pricing applies.

***Late Cancelation and No Show Policies still apply.