Claire N.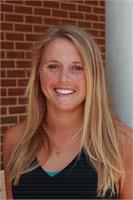 Claire is currently getting her masters in exercise physiology. She noticed her life missed the balance between effort and ease and discovered Power Vinyasa as the perfect work out to find equanimity. Her main influences are Baron Baptist, Shelley Lowther, Libby Ramsey, Eliza Whiteman, and Jess Norby. She completed her 200 yoga certification at Dancing Dogs in Greensboro, NC. As a teacher, she is committed to joy, passion, and most importantly, fun!
Claire N. instructs the following:
Power Vinyasa ALL LEVELS. This dynamic, energizing and challenging style of yoga links breath and movement through a basic Power Yoga framework combining sun salutations, standing postures and floor work but each teacher brings their own creative touch. The smooth, continuous flow deepens the breath, develops core strength, increases endurance and challenges balance and flexibility. You will leave these classes with a renewed mental and physical energy. The room is heated between 85 and 90 degrees.




Our power sculpt classes feature high intensity intervals of yoga, weights, and cardio. Cardio bursts will get your heart rate going, upper body strength moves and hand weights will sculpt your arms, and you'll see tremendous gains in your core strength and balance. Finish off the class with a well-deserved cool down and savasana. The room temperature will be between 80 and 83 degrees and you will need a yoga mat for this class.