Jennifer R.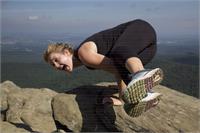 Jennifer has been practicing yoga for over eight years, beginning right here in Charlottesville while she was an undergrad at UVA. She moved to New York City after graduation, where she was practicing daily to keep her centered amidst the chaos of a busy city and intense job. After four years there, she is back in Cville for business school and to share the transformational power of yoga. Jennifer graduated from the FlyDog Yoga 200-hour Yoga Teacher Training program in 2017. She is inspired by Eliza Whiteman, MaryAnn McIvor, Francesca Bove and Taryn Toomey. Jennifer teaches an energetic Power sequence and a creative Vinyasa flow, both are light-hearted and yet empowering. Come to sweat, laugh, take care of yourself, make a new friend, and see how it inspires you to live off the mat.
Jennifer R. instructs the following:
Heated Vinyasa ALL LEVELS. This can be a moderate to high intensity class which links breath to movement to get the heart rate up and to work the student toward a peak pose or sequence through balance, innovation, and technique. Vinyasa Flow will help to develop physical and mental strength and will lead a gradual physical and mental opening. Sequencing will vary with instructor. The room is heated between 80 and 85 degrees.