Shannon and Madison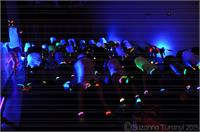 Shannon Burns, a double WAHOO, has lived in Charlottesville for 20+ years. She has practiced yoga for over 10 years, and completed her 200 hour yoga teacher training through FlyDog Yoga in March 2016.
As a Nurse Practitioner, she uses her care, knowledge and understanding of the human body to bring calmness and strength to the body through support and empowerment.
During a Power Vinyasa class, Shannon hopes to motivate students to gain confidence, knowledge, and connect to the mind & body in a kind hearted and nonjudgemental way. Shannon discovered the benefits of yoga practice during a crazy, yet exciting stage of parenting and life. After years of running half marathons and being a gym rat, she decided to see what would happen if she took 25 classes in 30 days at FlyDog, and has never looked back- HOOKED. Yoga continues to bring balance into Shannon's life, and she hopes to help you discover all of your possibilities in one of her classes!
Madison's yoga journey began her freshman year of college as she looked for something to help manage her stress and unwind at the end of a busy day. What started as simply a relaxation tool quickly evolved into a sweaty, powerful practice of self-love and empowerment. Madison was inspired by Baron Baptiste and Kathryn Budig and has studied with Eliza Whiteman and MaryAnn McIvor. She graduated from FlyDog Yoga's 200 Hour Vinyasa Training in March 2017, and also completed her Kids Yoga Training at Big Power Yoga in Houston. In addition to being a kids yoga teacher, Madison will start the University of Virginia's Counselor Education Program this fall in hopes to eventually combine the principles of yoga with counseling. As a teacher, Madison is committed to authenticity and will empower you to find your edge on the mat, while moving to inspirational beats. Her teaching will constantly remind you that you are awesome just the way you are.
Shannon and Madison is currently not instructing any classes.