Lucy S.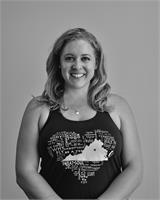 Lucy found yoga in high school as a way to maintain flexibility with her ballet practice and dancing for theatre. When she found aerial at FlyDog in 2017, she loved the tricks in class and the benefits she found from practicing aerial along side her traditional mat practice. She jumped at the opportunity for teacher training in October 2017. She strives to create a playful class for her students. You can expect a great work and a playlist that includes Fleetwood Mac and Cat Stevens in her classes!
Lucy S. instructs the following:
Aerial Yoga Basics class is designed for students who have had little or no experience with aerial yoga and is a prerequisite for attending any other Aerial Yoga class. We will focus on developing the fundamental skills that will help you take a regular class. The skills we will cover include but are not limited to: learning how to handle the hammock, alignment, safe entry on and off equipment, introduction to basic inversions and foot locks, developing upper body and core strength, alignment and breathing.

It is very important for students to arrive a minimum of 10 minutes before the start of class so that their hammock may be sized properly. Students who do not arrive at least five minutes before the start of class may find their spot has been given to a standby student.

Clothing requirements: short or long sleeves (no tank tops); no zippers or metal. No jewelry.

No yoga mats required.

Physical Restrictions: Please talk to the instructor before class if you have any concerns. People who have heart disease, high blood pressure, vertigo, eye diseases (such as glaucoma), or are pregnant should consult their doctors first before trying inversions.




Ages 10-17. Aerial yoga promotes better balance, boosts confidence, and offers a sense of courage and strength… all while having a ton of fun! Students will gain flexibility, confidence, and get a fantastic full-body workout! They don't know how hard they are working because they have so much fun here. Boys and girls love our classes. No yoga, dance or gymnastic background is necessary. Space is limited to 9 students. Pre-registration is required for this event.

Price: $20




***Registration Cancellation Policy: Registration cancellation requests must be made 48 hours prior to the event to be eligible for refunds in the form of credit for retail, future workshops or classes.