Catherine R.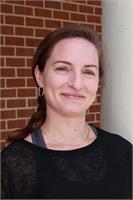 Catherine R. instructs the following:
Our power sculpt classes feature high intensity intervals of yoga, weights, and cardio. Cardio bursts will get your heart rate going, upper body strength moves and hand weights will sculpt your arms, and you'll see tremendous gains in your core strength and balance. Finish off the class with a well-deserved cool down and savasana. The room temperature will be between 80 and 83 degrees and you will need a yoga mat for this class.




Expect to sweat and expect to shake! FlyDog barre classes incorporate yoga, Pilates, and ballet influenced movements and exercises to strengthen and tone, creating long, lean muscles. A barre practice is a great complement to an existing yoga practice, as it helps build strength, focus, and confidence! Come prepared to work and have fun!

The room is heated between 75-80 degrees. All equipment provided. No mat, shoes, or socks necessary. Please arrive 10 minutes prior to class.