Lindsey T.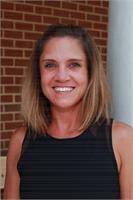 Lindsey began practicing yoga over ten years ago, but it wasn't a daily practice until after the birth of her second child in 2014. Vigorous workouts to get back into shape made her feel like she was going to snap in half, like she was on the verge of an injury. Incorporating daily yoga into her fitness routine, strengthened and healed her overworked body. Lindsey moved to Charlottesville in the summer of 2017. She quickly fell in love with the powerful, sweaty and soulful classes at FlyDog and has already built an amazing community of friends through her time in the studio. Lindsey graduated from FlyDog's 200 hour Power Vinyasa teacher training as well as Fly Dog's 20 hour Power Sculpt training in the spring of 2018. Lindsey began teaching group fitness classes and personal training in 2004. She is excited to combine her fitness background with her Fly Dog teacher trainings to bring her passion for group movement to your mat with athletic and fun classes.
Lindsey T. instructs the following:
Power Vinyasa ALL LEVELS. This dynamic, energizing and challenging style of yoga links breath and movement through a basic Power Yoga framework combining sun salutations, standing postures and floor work but each teacher brings their own creative touch. The smooth, continuous flow deepens the breath, develops core strength, increases endurance and challenges balance and flexibility. You will leave these classes with a renewed mental and physical energy. The room is heated between 85 and 90 degrees.




Our power sculpt classes feature high intensity intervals of yoga, weights, and cardio. Cardio bursts will get your heart rate going, upper body strength moves and hand weights will sculpt your arms, and you'll see tremendous gains in your core strength and balance. Finish off the class with a well-deserved cool down and savasana. The room temperature will be between 80 and 83 degrees and you will need a yoga mat for this class.