Rachael P.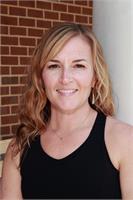 Rachael Palm discovered the mental and physical benefits of yoga in 2002 and has been practicing ever since. After welcoming her daughter Penelope in 2016, Rachael needed a practice that would challenge her and help her reclaim her postpartum body. She attended her first PowerSculpt class at FlyDog in December 2016, and she was hooked. After 18 months of practicing at FlyDog, Rachael took the PowerSculpt Teacher Training in April 2018 and finally fulfilled her lifelong goal of adding this element of fitness and teaching to her life.
Rachael has lived in Charlottesville since 2004. Besides practicing and teaching at FlyDog, she loves spending time with her husband, daughter, and their hound-mix pup Harry. Rachael also works part-time as an independent consultant for Rodan + Fields, is the communications coordinator for Hospice of the Piedmont, and volunteers regularly for local nonprofits.
Rachael P. instructs the following:
Our power sculpt classes feature high intensity intervals of yoga, weights, and cardio. Cardio bursts will get your heart rate going, upper body strength moves and hand weights will sculpt your arms, and you'll see tremendous gains in your core strength and balance. Finish off the class with a well-deserved cool down and savasana. The room temperature will be between 80 and 83 degrees and you will need a yoga mat for this class.