Eliza W.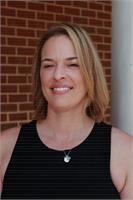 Eliza is the co-founder and Director at FlyDog Yoga. She found yoga initially as a cross trainer for her post collegiate athletics but it wasn't until her husband was deployed for a year in 2004 that yoga figuratively and literally showed her that she could hold herself up on her own. Eliza wants every student to feel that same possibility on and off of their mat as well.
Eliza is a RYT-500, Certified Baptiste Yoga Teacher and graduate of the Fit to Lead Training Program. She is the lead teacher for FDY's Power Vinyasa Teacher Training and she also has certifications in Aerial Yoga, Yoga & Weights, Prenatal Yoga and Children's Yoga.
In 2017, Eliza was the winner of the Tory Burch Fellowship for Small Business Women Entrepreneurs. As a military spouse, Eliza is passionate about helping other military spouses pursue their own business dreams and goals and is on the Advisory Board of MilSpo (Military Spouse) Project and is a regular contributor to their conferences and meetings.
Eliza W. instructs the following:
Power Vinyasa ALL LEVELS. This dynamic, energizing and challenging style of yoga links breath and movement through a basic Power Yoga framework combining sun salutations, standing postures and floor work but each teacher brings their own creative touch. The smooth, continuous flow deepens the breath, develops core strength, increases endurance and challenges balance and flexibility. You will leave these classes with a renewed mental and physical energy. The room is heated between 85 and 90 degrees.




Heated Vinyasa ALL LEVELS. This can be a moderate to high intensity class which links breath to movement to get the heart rate up and to work the student toward a peak pose or sequence through balance, innovation, and technique. Vinyasa Flow will help to develop physical and mental strength and will lead a gradual physical and mental opening. Sequencing will vary with instructor. The room is heated between 80 and 85 degrees.