At FlyDog Yoga we care deeply about those who serve their country. FlyDog Yoga co-founder, Brad Whiteman, is an Army Special Forces Officer who served 10 years on active duty and has continued to serve the last nine years in the Army National Guard. We recognize the sacrifice made by our nation's military members and first responders and the toll that these chosen professions can take on the body and the mind. Our goal is to make them aware of the power of yoga in healing the body and the mind and to create a safe, comfortable, and fun environment for them to learn and grow. We work closely with several national organizations that are dedicated to bringing mindfulness and wellness to these communities and we support and work closely with many local organizations that promote health and wellness through physical and social activities.
We hope you can help us spread the word about our programs and the initiatives of these other wonderful organizations!





VETOGA's mission is to provide yoga, meditation, and healing arts to military, veterans, their families, and communities. We accomplish this by holding free monthly yoga classes, events and veteran specific 200-Hour Teacher Trainings throughout the year. VETOGA is a non-profit based in Washington, D.C.



Veterans Yoga Project is an educational and advocacy organization dedicated to improving the health and well being of military veterans. Working in partnership with veterans, active-duty military personnel, student veterans organizations, and other non-profit organizations, Veterans Yoga Project supports recovery and promotes resilience among veterans, their families, and their communities.





Warrior Spirit Retreat is a non-profit created by Dan Nevins, combat wounded warrior and certified Baptiste Yoga teacher, that will empower warriors and their families to greater possibilities by providing them with new tools for healing from the physical and invisible wounds of war. Set on a serene organic family farm in St. Augustine, Florida, the holistic retreat will offer a curriculum centered on yoga, mindfulness and meditation, and will be free of charge to veterans and their families.



Local and Regional Organizations





Living Free is based in Earlysville, VA and is committed to providing active, non-active & retired patriot families with the life skills and support necessary to face their next BIG adventure in life together. Through a series of Family and Couples events, as well as several retreats throughout the year, Living Free creates fun experiences for families to make memories and stay connected to each other and their community.





Team RWB's mission is to enrich the lives of America's veterans by connecting them to their community through physical and social activity. Learn more about the local Charlottesville chapter on their Facebook page: https://www.facebook.com/groups/teamrwbcharlottesville.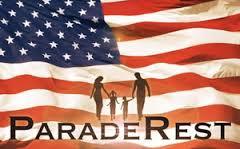 Composed of veterans, non-veterans, and representatives of the University of Virginia and Charlottesville area community, the ParadeRest Board has donated its time since 2009 towards providing ways to engage military personnel and their families with the local community. Expressions of gratitude for our veterans have taken the form of donated tickets to entertainment and sporting events, organizing Our Community Salutes for high school graduates enlisting in the military, as well as the 4 Our Freedom 5K and the Freedom 5K.




Wintergreen Adaptive Sports invites all military personnel injured during their military service to register for free adaptive snow sports lessons, including ski or snowboard rentals, any day of the week. Advance reservations are required. With sufficient advance notice, WAS can often also assist with lodging.




Project Healing Waters Fly Fishing, Inc.™ is dedicated to the physical and emotional rehabilitation of disabled active military service personnel and disabled veterans through fly fishing and associated activities including education and outings.




The Veteran Get Away Program is part of Wildrock's On Solid Ground Program promoting nature connection as a path for greater health and happiness. This program welcomes veteran families with kids ages 18 and under to come for a Saturday afternoon of fun on the playscape and trails, followed by a food truck dinner, evening campfire games and activities, s'mores, star gazing, and tent camping. The retreats create an exciting opportunity for kids to build happy memories with parents and to meet other families who have experienced a family member's deployment. Veteran volunteers and social workers knowledgeable about community resources and common needs of returning soldiers and their families will be welcoming participants. Retreats are free of charge to any veteran (regardless of type of service or discharge) thanks to a generous grant from the 4 Our Freedom 5K Run.