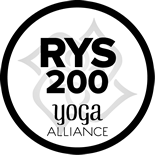 300-Hour Yoga Alliance Power Vinyasa Teacher Training
Don't Change Yourself, Create Yourself
For current 200-Hour Certified Yoga Teachers interested in diving deeper into teaching, our 300-Hour advanced training delivers a comprehensive curriculum through 4 experiential, dynamic, and flexible modules. Our program is designed to support your evolution from Yoga Teacher to Yoga Leader as you explore how to deliver deep and lasting inspiration and personal transformation through your yoga classes and programs. Led by FlyDog's founder and Certified Baptiste Yoga Teacher Eliza Whiteman, students will receive invaluable instruction on topics including:
Effective cueing and sequencing 
Advanced anatomy/alignment
Comprehensive history and philosophy of yoga 
Creating and leading workshops and teacher trainings 
Facilitating inquiry sessions 
Throughout this fully virtual training, a team of FlyDog Yoga 300-Hour Certified teachers join Eliza to lead Master Classes, workshops and inquiry sessions, offering their unique perspectives and experiences. The cohort of teachers both leading and participating in this training infuse the experience with community, inspiration, and creativity.
Connection is at the center of all that we do at our studio, and our trainings are no different. Virtual meetings, a group messaging platform, and community service projects will provide ample opportunities for conversation, collaboration and connection. Homework and self-inquiry journal prompts provide equally important solo time to fully reflect and absorb all that is being offered during group meetings. 
We want to ensure that each student has the ability to navigate this impactful training at a pace best suited to serve their particular circumstances and goals. We've developed a module-based approach, providing trainees the flexibility to drive their own trajectory. Certification is attainable in one to three years. 
The program is comprised of 4 modules, each 5 days long. Training days are further broken down into virtual group meetings balanced with pre-recorded lessons, journaling, practice teaching, and discussions. 
New students to the program must begin with Module One or Module Three. After your initial session, you can register for the remaining three modules in any order. The module dates will be offered around the same time every year. We will post the new dates by the first week of each new year. The training must be completed within three years from the date that you begin your first module. 
Module III – Mastery of Self (September 23-27, 2020)
Virtual Session
– Overview of Journey Into Power and Baptiste Methodology.
– Learn and implement methods of Pranayama and Meditation.
– Build self-inquiry and guide others through the inquiry process.
– Define and refine your niche.
– Enhance your knowledge of Vinyasa sequencing for various abilities and populations
– Record yourself teaching and give self feedback
– Read/journal Living The Sutras and Satchidananda's Sutras translation to learn how to lead discussions on The Yoga Sutras of Patanjali.
– Write 3 articles/blogs and learn opportunities in having your voice heard.
– Build, prepare, and lead Specialty Workshop with a partner and then lead an independent Specialty Workshop.
Module IV – Mastery of Leadership (December 2-6, 2020)
FlyDog Training and Events Center
– Complete online 300 YTT Anatomy program (included in tuition).
– Know major joints, muscles and how they work together in key yoga movements i.e. forward folds, chaturangas, backbends, standing and floor poses.
– You will gain experience in leading inversions and arm balances, from building up strength and balance to modifications and variations. 
– Understand common injuries, where you can help and when it is beyond your scope of teaching.
– Deeper understanding of Advanced Assists.
– Ability to teach/lead Assists for YTT.
Module I – Mastery of Teaching (Spring 2021)
Module II – Mastery of Community (Summer 2021)